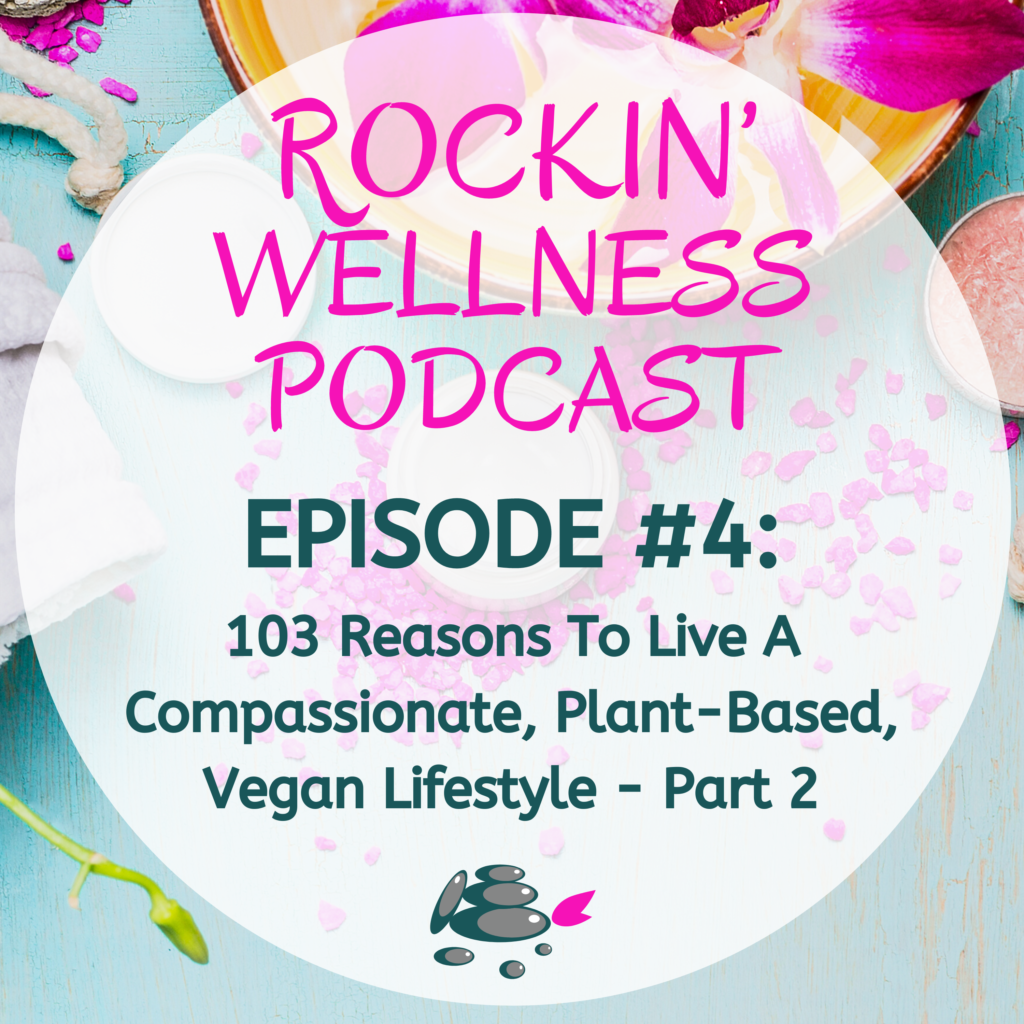 In this episode of the Rockin' Wellness Podcast, you will learn about how living a compassionate, plant-based, vegan lifestyle will help reduce the anger and suffering that's happening in the world today.
You will also learn about the various environmental and health reasons why people choose to make the switch to this lifestyle.
Show Notes
If you enjoyed this episode and want to learn more about these reasons and more please read, the following blogs:
103 Terrific Reasons To Go Vegan I think you will agree with me when I say the vegan movement that's happening now is HUGE! This is no joke and it is here to stay. Going vegan has been proven to be one of the best things we can do to protect our future here on this planet and the health of Read More
What Are Macronutrients? The topic of nutrition is one that's often confusing for people to understand. Especially since there are numerous professionals who all have their own opinions present the latest fad on what's the best way to eat. However, regardless of the latest fad, or what will help you lose weight the fastest, the one thing we Read More
What Are Micronutrients? In this blog, I will answer the questions of "What are Micronutrients" and why are they so important to our health? The science of nutrition is fascinating. There's much research that's been done on nutrition in the body and yet there is still a Read More
Recipes:
References:
There are many references used fo this episode and episode 3; however, here are some articles you may like to read to expand your knowledge about this topic.
Animal Agriculture's Impact on Climate Change: https://climatenexus.org/climate-issues/food/animal-agricultures-impact-on-climate-change/
Meat And The Environment: https://www.peta.org/issues/animals-used-for-food/meat-environment/
Position Of The American Dietetic Association: Vegetarian Diets: https://pubmed.ncbi.nlm.nih.gov/19562864/
6 Science Based Benefits If Eating Vegan: https://www.healthline.com/nutrition/vegan-diet-benefits
Thank you for listening!
The Rockin' Wellness Podcast is a 100% listener supported podcast. To support this podcast CLICK HERE to purchase a supporter membership. I am grateful for your support!
Please subscribe to this podcast on iTunes and listen to it on the go! Share this podcast with anyone you feel would enjoy this podcast and leave a review on iTunes.
CLICK HERE to see and listen to all episodes.
Thanks for listening and for your support!
Until next time!
Keep rockin' your wellness!
Rachel Joy Olsen, BSc., MBA, Podcast host, health & wellness coach, author